Deer Creek Church Updates
January 2022
The Christmas Gift Final Total
Every December we take up a special offering to support special causes outside of Deer Creek Church. This year our goal was to raise $45,000 to host a Feed My Starving Children Mobile Packing event where we will pack 125,000 meals and to support outreach efforts to students on the campus of Oxford University in the UK. We are thrilled to report that we as a congregation collectively gave $70,559! The extra dollars will go to support our missions partners around the world. Thank you to everyone who participated!
DCC Kids Hires!
Amber Brinks has worked with kids at Deer Creek for over fifteen years serving as a faithful volunteer! Amber and her husband Tyler have been at DCC since 2006 and have two children, Riley and Hannah. Amber enjoys coffee, baking, walking with friends, road trips, hiking, and other simple things. Amber will be serving as the Deer Creek Kids Director!

Hannah Nealon will be serving as the Coordinator of DCC Kids with Amber. Hannah previously worked as a Ministry Administrative Assistant with Flatrock Community Church (PCA) in Nashville. She loves gardening, house projects, being outside in the Colorado sunshine and family. Daniel and Hannah have four children: Eli, McClaine, Jane and Annie.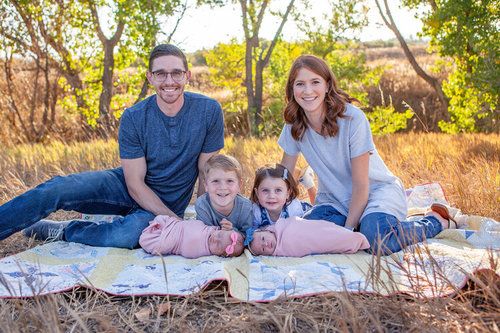 Communicants Class
Beginning in January we launched our first ever Communicants Class. This is one of the ways we encourage children (5th-8th grace) to take a next step in faith and become communing members at Deer Creek! It is aimed at helping students grow in their knowledge of what Christianity is and why they should believe it. Daniel Nealon, Demian Klausing, Doug Heen, and Jackie Ellis are teaching the class and going through the newly created
Deer Creek Catechism
- a 45 question and answer booklet that explains the basics of Christianity. You can see a digital version of the Catechism
here.
An Update on Our Church Plant Elevate Hope Centennial from Brett Weston:
"It has been a challenging year for our church plant, Elevate Hope. But God is at work. We are seeing people grow and take next steps of growth and discipleship. We were able to receive 50 new members with our first round of membership last Fall. We have 4 small groups with great leaders as well as a 9am adult ed hour going through the New City Catechism with both adults and kids.

Elevate Hope is also becoming known in the community as a church who cares. This past December we were asked by Arapahoe County Human Services to take over running a Christmas outreach to families served by the County. We were able to serve nearly 500 kids and 250 adults in the County Human Services System and gave away over 1500 Christmas presents. As families in crisis came through, we were able to hear their stories, pray with them, and serve them in the name of Jesus. We will continue to serve those families and build relationships with them through our new local missions parter Care Portal. God is at work in big ways through his church, Elevate Hope! Thank you for being such a big part of that!"
Western Church Planting Network
Some of you may know that Deer Creek Church is a part of the Western Church Planting Network (WCPN). The churches in our network pool their time, energy and resources to plan churches in Colorado, Wyoming and Montana. Our Senior Pastor Duane Cory is currently serving as the Director of the Network and our Executive Pastor Tim Ringquist is the Chair of the Residency Support Committee. 2.75% of our annual budget goes directly toward church planting with WCPN. You can learn more here:
https://www.westernchurchplantingnetwork.com/
Finance Summary through December 2021:
Budget*: $347,000
Giving: $352,000
Spending: $328,000
Benevolence Funds Distributed: $9,500
* Note: our church budget year goes from October 2021 through September2022

Thank you to everyone who gives faithfully to the ministry of Deer Creek Church. This work would not be possible without you!